Tête de Moine AOP Classic
An unmistakable characteristic "head" from the Jura mountains
Its history dates back to the 12th century, eating it is a truly unique experience and its flavour is a revelation: that's Tête de Moine.
The Bellelay monastery was built in 1136 in the northern part of the Bernese Jura. The canons obviously had a gift for cheese-making as their product was first documented just a few years later. They paid their dues for various pieces of land with their cheese. Many documents can be found over the following centuries which refer to the use of cheese as a means of payment.
The name "Tête de Moine" (monk's head) was first used at the end of the 18th century when the region briefly belonged to the French département of Mont-Terrible. It may have been used derisively as monks used to shave their heads (the tonsure). But it may equally have just been a way of counting: how many cheeses are stored per (monk's) head? In any case: the name still stands today and has been part of the official name, along with its original provenance, since 2001: Tête de Moine, Fromage de Bellelay AOP.
It has been proven that Tête de Moine has always been scraped instead of sliced. Scraping increases the surface area of the cheese which comes in contact with moving air, allowing the typical flavours to unfold to the full. Maybe the monks in the Abbey of Bellelay did it to enjoy a sneaky snack. Today, various scraping devices are used for this purpose, going back to the Girolle® invented in 1981. The Fleurolle sold by Spielhofer makes it very easy to create the delightful rosettes which have since become the trademark of Tête de Moine.
Tête de Moine is a cylindrical, washed, semi-soft, raw milk cheese weighing 880 grams. It is made from a very fine-grained paste which melts slightly in the mouth. The lush grass and herbs of the pastures and natural mountain milk make Tête de Moine a product of its "terroir" and create it its incomparable flavour. It is produced according to the stringent standard of the AOP specifications and is matured for at least two and a half months on pine boards. Only eight cheese dairies in the Bernese and Jura hills are allowed to make Tête de Moine.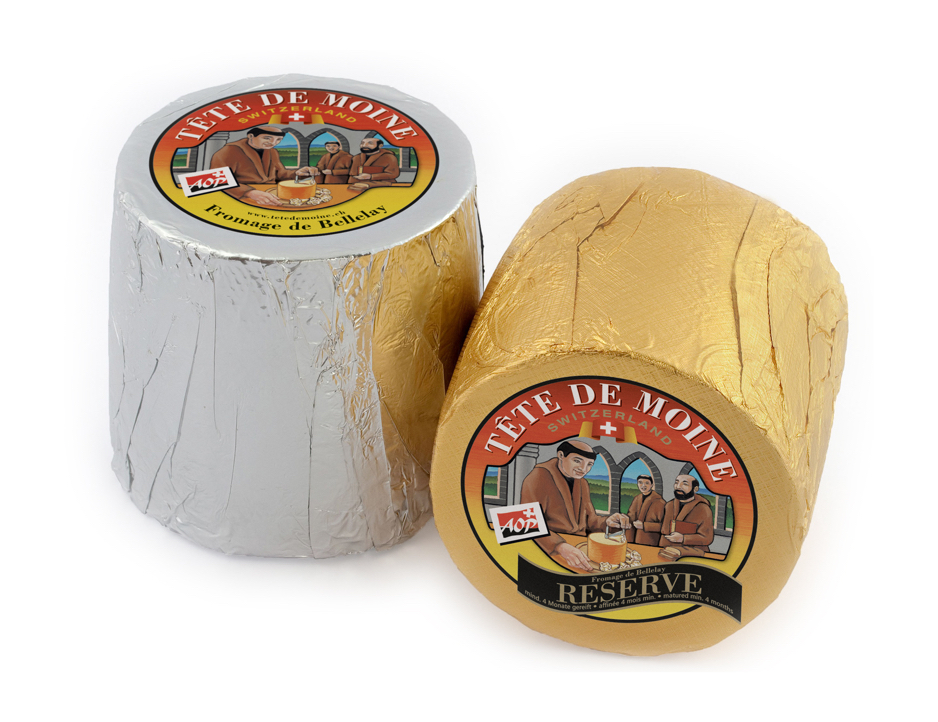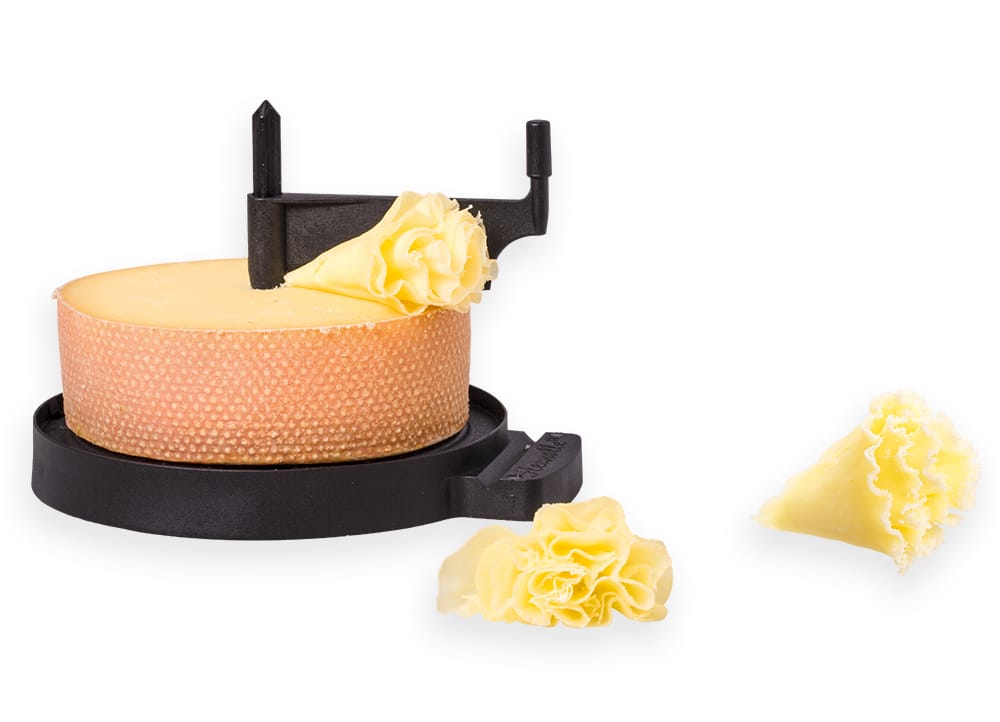 Tête de Moine AOP
Its history dates back to the 12th century, eating it is a truly unique experience and its flavour is a revelation: that's ...
Download datasheet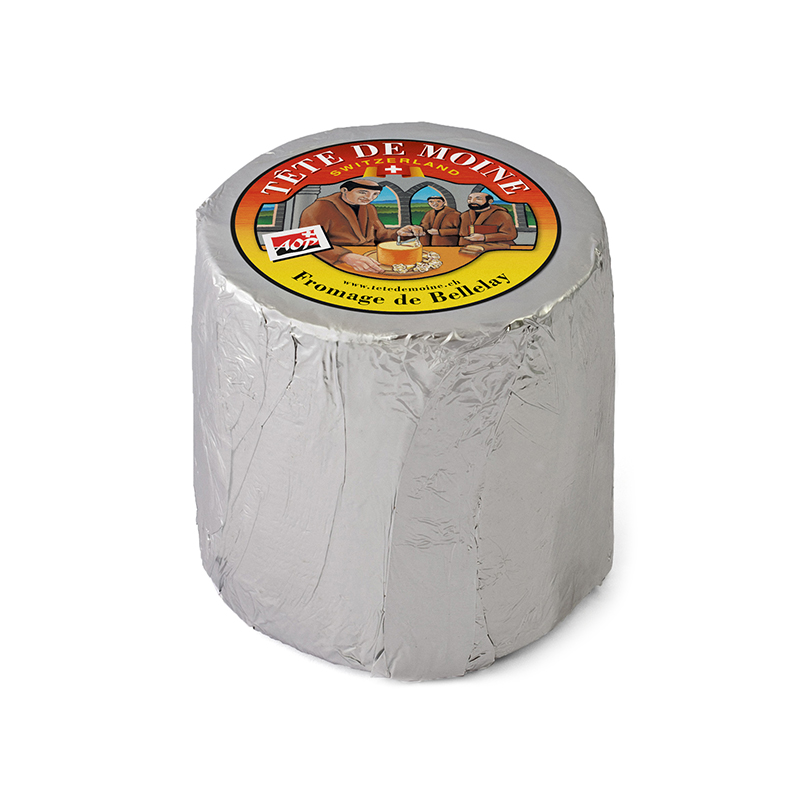 Tête de Moine Fromage de Bellelay AOP
The melt-in-the-mouth, flavoursome, heavenly classic.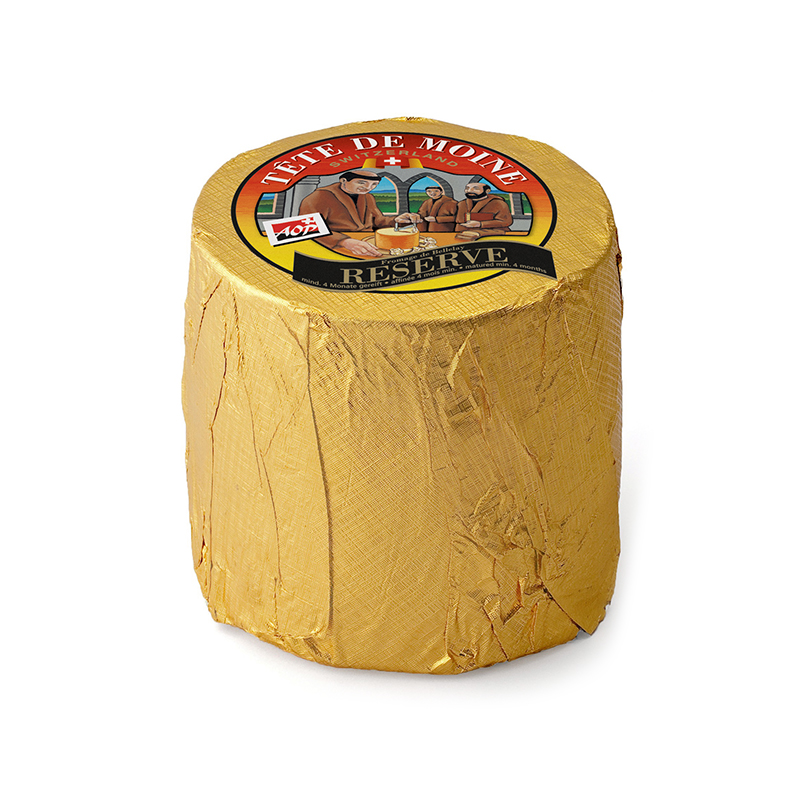 Tête de Moine AOP Réserve
Matured for at least four months: smooth, aromatic, full-on flavour.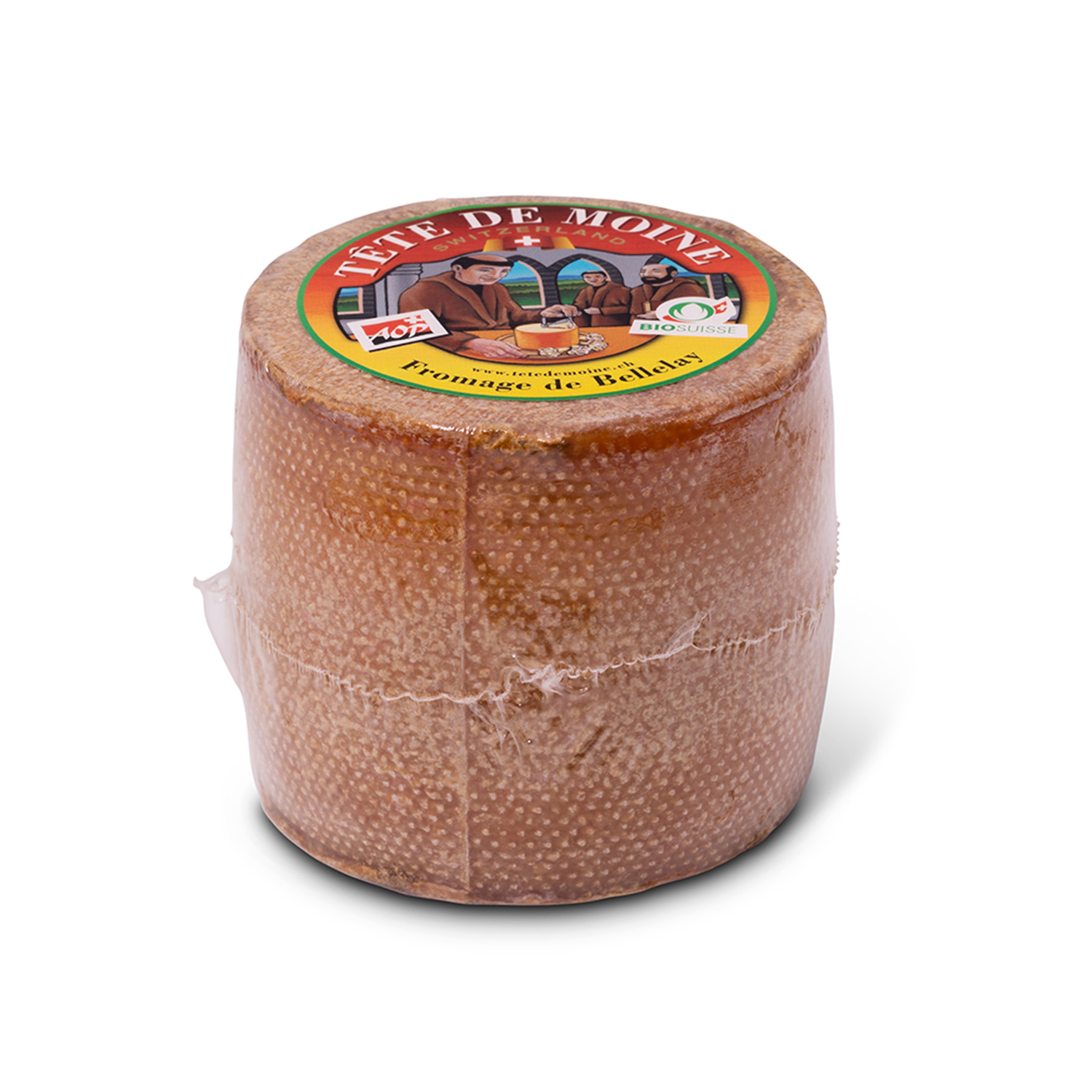 The classic made in organic quality.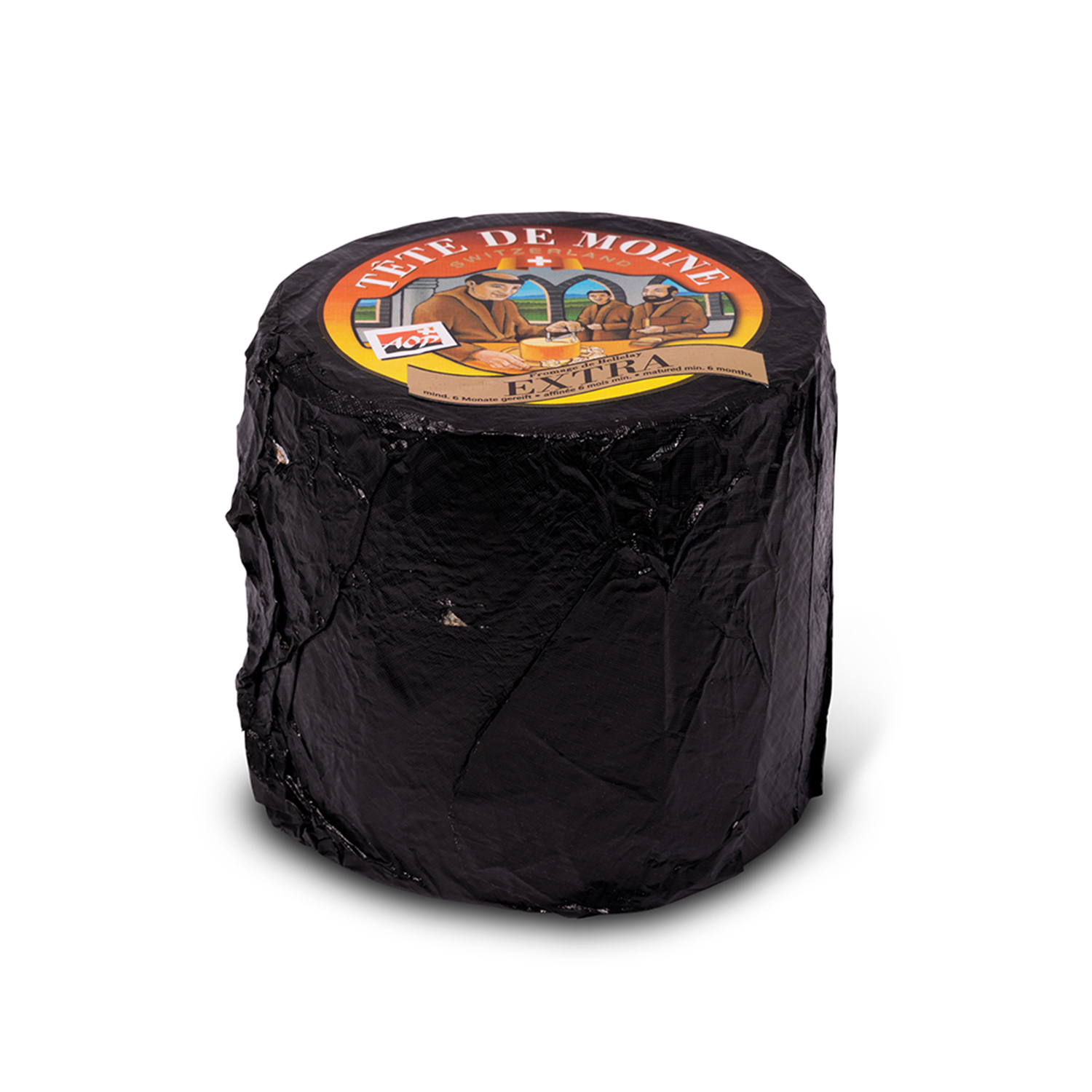 The strong classic, matured for at least six months.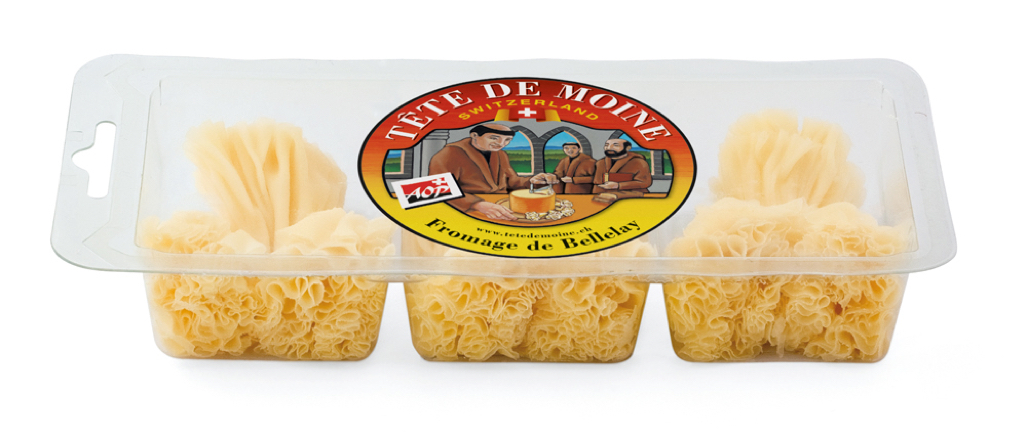 Tête de Moine Fromage de Bellelay Rosettes
Prepared in line with tradition for your enjoyment.
The cylindrical shape of the cheese is typical of Tête de Moine, as is the secret recipe and in particular the bacterial culture. Once the fresh cheese has been shaped properly and provided with a casein label, it is pressed. In then spends 24 hours in a brine bath, followed by daily brine washes over 14 days. At Spielhofer, this task is carried out entirely automatically using a robot. The Tête de Moine is then left to mature for 3 or even 4 months (for the Tête de Moine Réserve). During this period, it is still rubbed with water once or twice a week in order to maintain the right humidity level.
Spielhofer produces about 260 tonnes of Tête de Moine and buys a further 600 tonnes from other manufacturers. About 80% is then exported to 65 countries worldwide. In order to manage such quantities, we work in three shifts on a seasonal basis. In November and December, the packing department is particularly busy as Tête de Moine is a favourite Christmas gift, notably bearing the customer branding, for example with a matching Fleurolle.
Spielhofer is not an industrial company. We know all of our milk suppliers in person and visit them daily. We are aware of their concerns and the challenges they face. We treat them as partners and support them whenever possible. After all, it's all about milk, the white gold of the Jura mountains.